Da Flittin' of the Nicolsons from Shetland and the Duthies from Kincardineshire
$ 60.00
A collection of stories of real people – their romances, hopes and
dreams, hard work and heartbreak, bravery in battle, terror at sea…
This is definitely not a dry history. Make sure all the branches of your related family take this opportunity to own a piece of their family history.
Description
KEY POINTS
– Da Flittin' is inspired by the 'flitting' (a Shetland term for changing home) of many of the Duthie family's ancestors from Shetland and Scotland. It centres on the lives of William Ogilvy Duthie and Grace Nicolson, starting in their homelands of Scotland and Shetland, and follows their adventurous travels throughout their new home in New Zealand, halfway across the world.
– Their 11 children, Willie, Rob, Laura, Mary, Grace, Jean, Ellen, Eva, Flossie, Rose and Ivy, all star in the 2nd section, 'Their Bairns'. Each story has been narrated by family members. This has also been a wonderful chance to share many family photos.
– Another section is devoted to 'Their Kinfolk' – William and Grace's brothers and sisters – James, Betsy, Andrew, Magnus, James, Mary, Laura, William and Samuel.
– The last section 'Their Auld Folk' takes us back even further in time, to William and Grace's ancestors, the Duthies and Ogilvys in Scotland and the Davidsons and Nicolsons in Shetland.
AUTHORS:
Kathy Hill, Diane Miller et al
PUBLICATION DETAILS: Available late June 2017
PRICE:  NZ $60.00
FORMAT:     A4 – 297 x 210  mm Pb
EXTENT:       292 pp
ILLUSTRATIONS:  102 Colour images and 246 Black & White photos.
48 Newspaper clippings, 48 maps.
33 family trees and charts.
ISBN:          978-0-9922457-2-6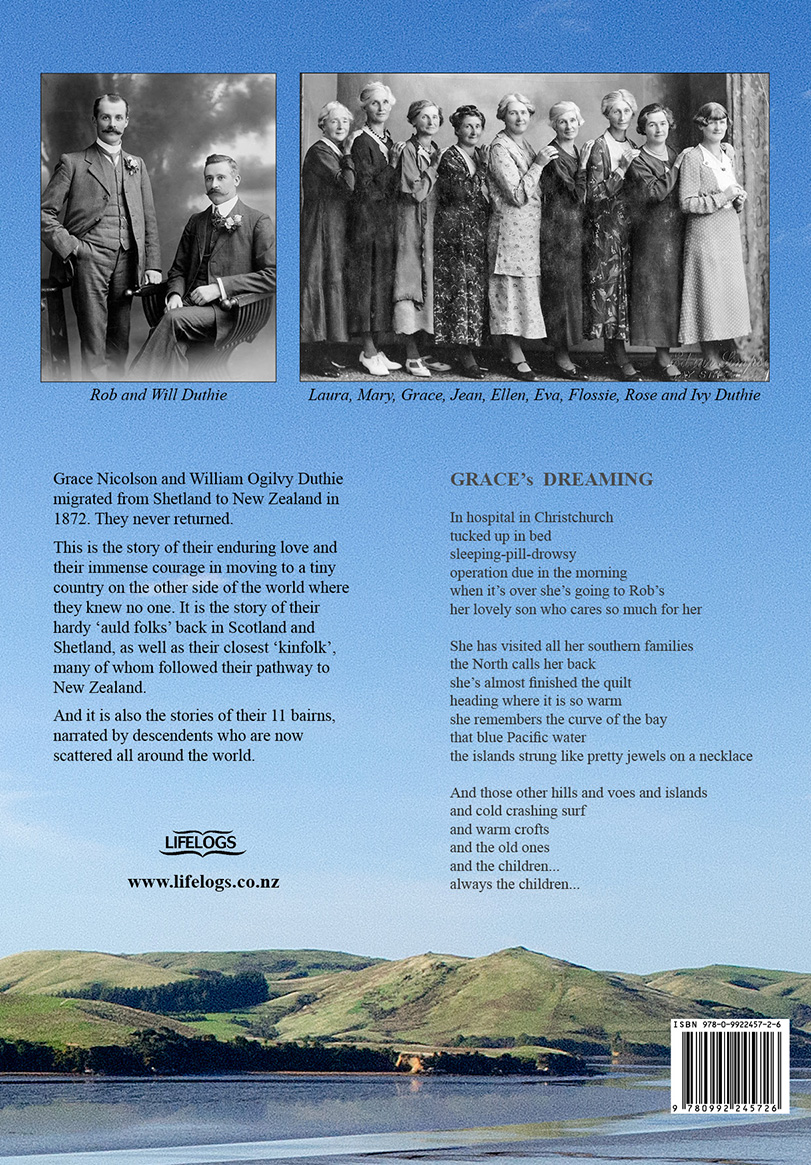 Save
Save
Save
Save
Save
Save
Save
Save
Save
Save
Save
Save
Save
Save
Additional information
| | |
| --- | --- |
| Weight | 1.110 g |
| Dimensions | 21 x 2 x 29.7 mm |
| ISBN | 978-0-9922457-2-6 |