Ralph Miller Memorial Exhibition
Dunedin Public Art Gallery, 1969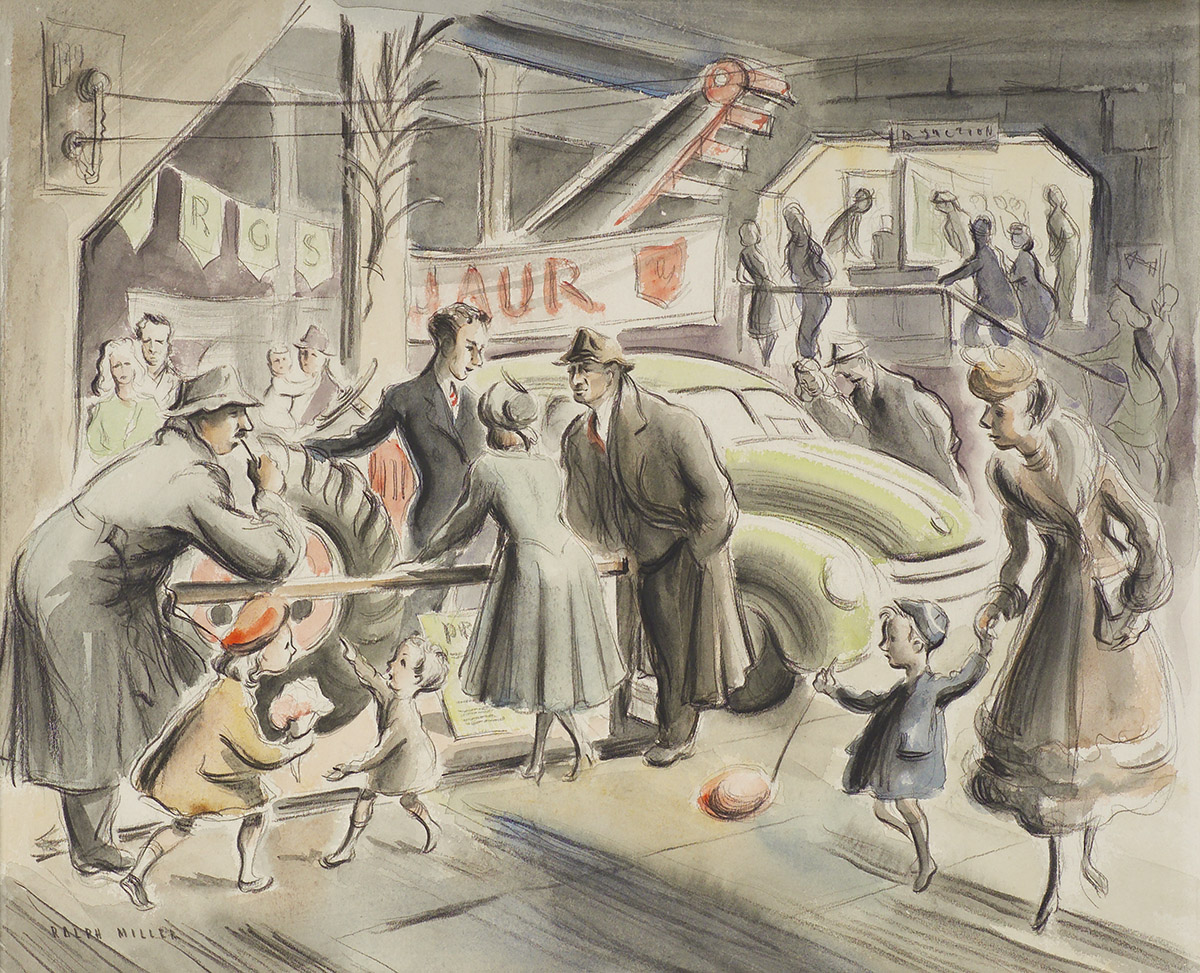 Ralph Miller 'Winter Show' #067 – Conté and wash – Dunedin Public Art Gallery Collection.
Otago Daily Times, Mon., July 14, 1969.
Gallery Stages Exhibition By the Late Ralph Miller

by Tom Esplin
This is what normally might be considered the off season for the Dunedin Public Art Gallery. Half the rooms are closed for renovation and repainting, but in spite of this disruption time has been found to display an interesting Memorial Exhibition of work by the late Ralph Miller.
Some 90 works in pencil and conte, pen and wash and watercolour are displayed in two rooms. They are, for the most part, small and intimate in size, often leaves from his sketchbooks and they have been assembled from the collection still in the possession of the artist's widow.
Care has been taken to choose examples that show the development of style that took place in his work and the range of subject matter that attracted the artist's attention.
Ralph Miller died, tragically young, aged 37, in 1956. He was born in Dunedin and had his initial training with his brother Roy as a signwriter in his father's business. His interest in art, however, led him to take lessons with A. H. O'Keefe in a studio that artist had in South Princes Street.
There he learned the rudiments of painting in oil, but this medium did not attract him so much as watercolour, and it was as a pupil of Kathleen Salmond that he subsequently developed and formed the direction his art was to take.
Progress

His other interest lay in band music and, with his brother, he played in the St Kilda Municipal Band. On the outbreak of war in the Pacific area, Ralph Miller volunteered for service and entered Burnham Camp in 1940, where, for a year he was a member of the Army band, playing the euphonium.
For the remaining years of the war he served, first in Fiji and then in New Caledonia. The exhibition clearly shows his progress through these areas.
The sketches of life at Burnham are careful, but often very lively notations of tent life and army types. In Fiji, the exotic landscape attracted him and in Noumea he often found his subjects in the French colonial architecture. But people always remained one of the chief studies for his pencil and brush.
On his return from three years of military service, he went back to the business of
signwriting. But all his spare time was occupied in sketching. Often, he found his subjects in the streets of Dunedin; vivid glimpses of the Stock Exchange, little corner shops and many areas that have now been demolished, or changed out of all recognition.
The exhibition has many examples of this phase of his work. His street scenes are never just of buildings, for they are crowded with the people of Dunedin hurrying across his sketches. His knowledge of human anatomy had been greatly increased by attending the life classes at King Edward Technical College, under the direction of Fred Shewell.
In 1944, Ralph Miller was accepted as an artist member of the Otago Art Society and he exhibited regularly at the exhibitions. Two of his works are now in the collection of the Invercargill Art Gallery. In 1949, he was elected Council Member of the Dunedin Public Art Gallery.
Observer

In the last phase of his work, such paintings as "The Promenade, St Clair" and "Shield Fever" show that his tyle was maturing. Undoubtedly, this is the most important and the most interesting period of his work, for he was reaching towards a style that had in it something of the quality of the work of Ardizzone, or even Rowlandson.
He could best express himself through the attitudes, the habits and the characteristics of people. and he was a keen observer of life.
Underlying all he did, there was always a desire for perfection and a search for the expressive line. He thought more as a draughtsman than a painter, and often his colour was used to support the drawing in an illustrative way. He was always reluctant to show his work, being a modest, reserved man, sensitive and sincere. This exhibition will give great pleasure to many who appreciate his qualities.
                          ++++++++