TALENTED CITY ARTISTS RECALLED
Memory Lane – by Gordon Parry, Dunedin
Otago Daily Times 12 March 2014
————————————————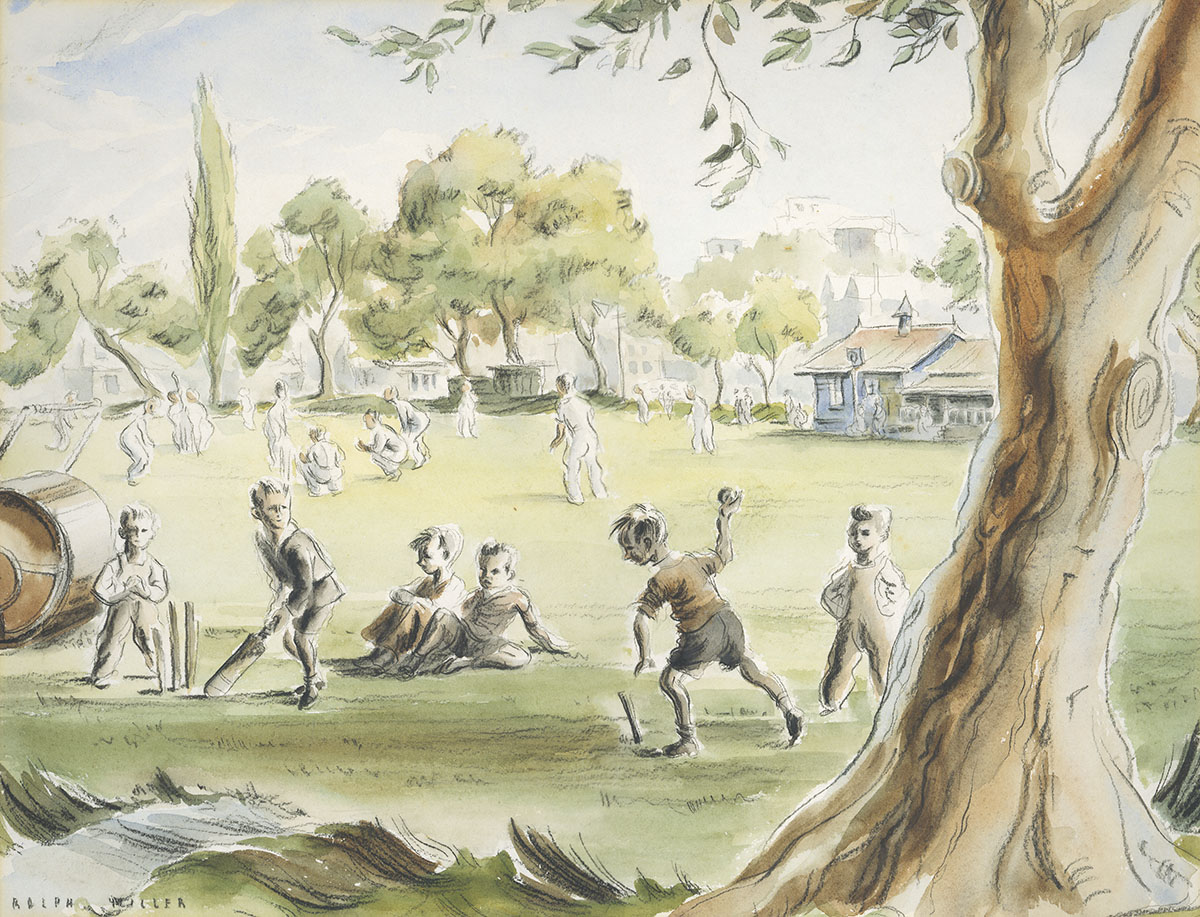 'Boundary Eleven' – contéand wash by Ralph Miller
On my bedroom wall is a small watercolour painted beside Lake Wakatipu.
The artist was Kathleen Salmond and her picture has special value because it was the first painting my wife and I ever bought.
We went into Fisher's famous shop in Christchurch with a wedding gift of 5 guineas and found this little gem by one of Dunedin's many skilled artists.
She died aged only 51 in 1946 but had produced many fine paintings, won awards and played a leading role in the Otago Art Society.
I mention her because I have just discovered a brief biography of her in a beautiful book which was given to me.
It is the story of Ralph Miller, one of the family which founded Millers Studio 100 years ago, and mention is made of the influence Kathleen Salmond had on this versatile artist who, sadly, also died young.
Between them the Millers have made huge contributions to art in New Zealand.
The firm's founder, Oswell Miller, was a signwriter and glass embosser who encouraged his sons, Roy and Ralph, to paint.
Roy became an outstanding artist in glass and has windows in more than 100 churches from the far north to the far south of New Zealand.
I have made a mental note to discover whether his superb tall window in Christchurch Cathedral survived the earthquakes.
Ralph, working as a signwriter, loved design and worked hard to broaden the base of the firm's artistic activities.
He was a pioneer of silk screen work, but to me he will always be the painter who produced wonderful street scenes here in Dunedin.
I never saw him at work but he liked to draw in his car.
While his wife was shopping he would sit with a board across the steering wheel and do lightning sketches of passers-by.
He also spent lunch hours in Queens Gardens and there are some exciting pictures painted in that area.
Women used to dress up to go to town and he captured them in their best, caught groups chatting on street corners and even children counting their pennies outside a cinema.
I remember that Peter Chin, Dunedin's mayor, bought 10 reproductions of Miller street scenes in 2006 and hung them in the mayoral office.
There have been changes of buildings and contours so that one can't always be certain of where the artist was working, but the atmosphere he captured is not just authentic but valuable.
Not everyone knows that Ralph Miller painted many Pacific scenes when serving during the war in New Caledonia and the Solomons.
He was a baritone player in the NZ Army Band and brother Roy played a trombone in the Air Force Band.
Ralph died in 1956, suddenly and of no known cause. He left a wife and three children.
Brian Miller, the author of Moments in Time, was only 8 when he lost his father but this has not prevented his putting together a quite outstanding book.
It is profusely illustrated, beautifully presented and an important contribution to New Zealand history.
And it told me that the painter of one of my favourite pictures influenced the life and work of a fine Dunedin artist.
• Gordon Parry is a Dunedin writer.