Wairarapa Times Age Newspaper review – Saturday 22 March 2014
==================================================
Moments in Time: Ralph Miller – Artist 1918-1956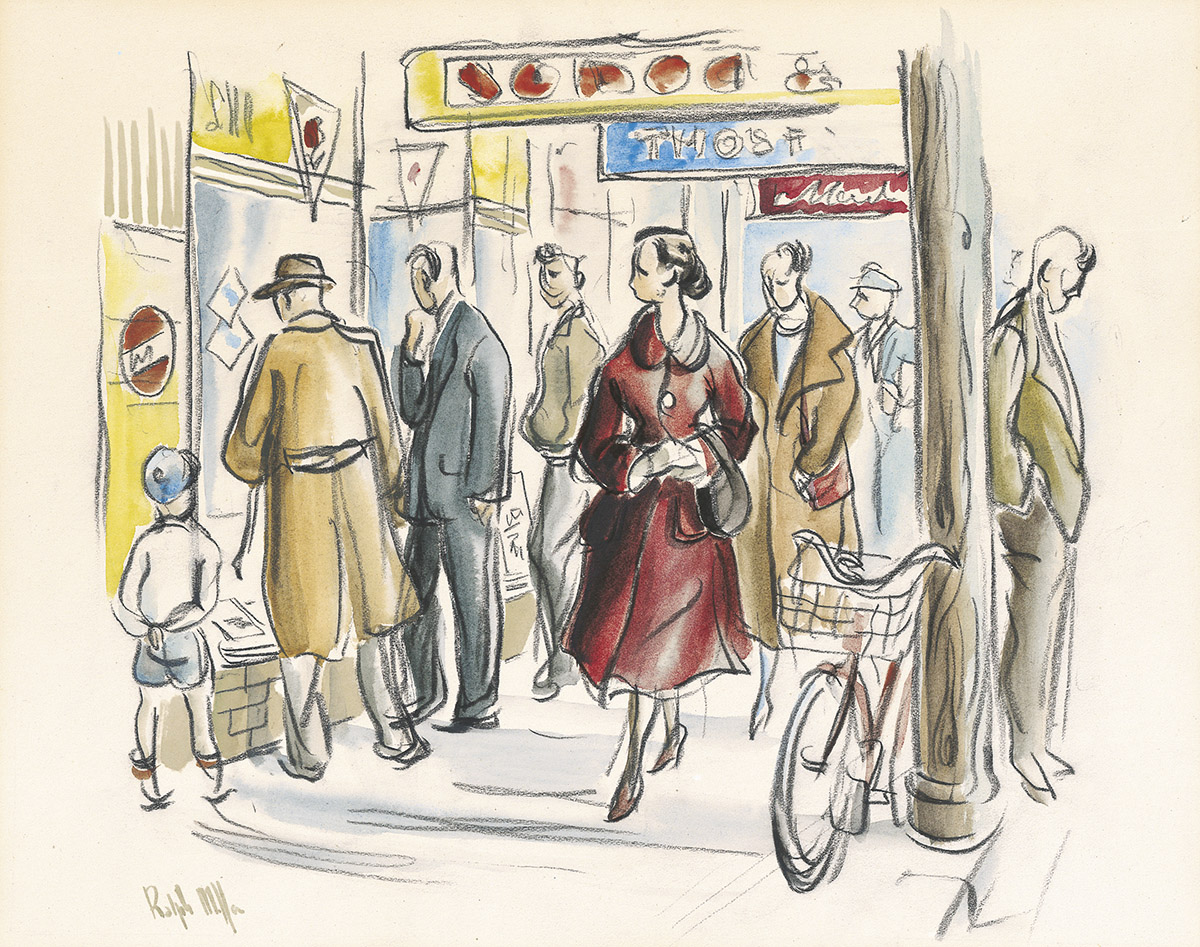 The Red Lady – Conte and was by Ralph Miller
Moments in Time is a book full of small but interesting surprises. The first is that Ralph Miller  even existed. His name is probably well-known in art circles in Otago, especially given he has enjoyed a retrospective exhibition at the Hocken Collections Gallery at Otago University in 2006 which lead to 10 reproductions now hanging in the Mayor's Lounge at Dunedin Town Hall.
But this book, written by his son Brian Miller (Lifelogs Ltd) introduces Miller's work to a wider audience, which would otherwise be impossible given nearly all his work have only ever been owned by family members. Brian Miller is more than just an enthusiastic amateur keen to promote his father to the general public, being a professional writer, publisher and photographer. He does an excellent job of not only presenting and explaining Ralph Miller's work, but putting it within the context of the times and experiences the artist lived through, particularly daily life in Dunedin, and New Zealand's military involvement in the Pacific during World War II.
Ralph Miller came from a family of craftsmen and began working for his father Oswell Miller's sign writing business after leaving school. However, Ralph always found sign writing artistically limiting and studied oil painting privately under A H O'Keeffe, not enjoying this medium, and then water colour with Kathleen Salmond who was a far greater influence.
Much of Ralph's training though, came through the sketches he made during World War II when he played brass in the Third Divisional Band in the New Zealand army.
In this capacity Ralph became an unofficial New Zealand war artist. Interestingly, Russell Clark, one of the official war artists, was "surprised by the number of men he saw drawing sketches. 'It was an astonishing experience. Instead of a man here or there, there were hundreds doing such things.'
Ralph's commitment to his art during this period is impressive, writing to his wife Nan that he had "a constant job keeping the paper from getting damp and mildewed while living in tents with tropical rain, mud and dust."
Ralph never drew the more military aspects of war, "instead he captured his soldier friends in everyday life, sitting around playing cards and darts, drinking, smoking or just relaxing in tents and barracks." He also drew the environment they were a part of – buildings, jungle and wildlife. It is this interest in and observation of people that sets Ralph apart from so many other artists of his era and which gives his work a unique value.
By the time Ralph returned to Dunedin and was raising a young family, both his observational skills and drawing technique were highly developed, so we are able to enjoy vignettes of life in Dunedin in the late 1940s and early 1950s. Many of the most outstanding examples are street scenes, Ralph leaving to posterity a rare pictorial glimpse of daily life at the time, with an intimacy that photographs can't convey. Ralph had a particular finesse for street fashion, both men's and women's.
It is quite clear that at this time Ralph's technique was still evolving both in his drawing and commercial work, having return to the family business after the war. The author importantly points out that Ralph was an avid student of the American Regionalist School, but just as significantly loved Walt Disney books and movies. There's always a sense of currency about his work.
Ralph used a small range of mediums – pencil, pen, wash, watercolour, conte etc. The foundation of all his work is his draughtsmanship, my favourite drawings being those where the thick lines of conte define the figures and buildings, while the colours in the wash have a very nice subdued palette but with enough bright accents to escape the impression we have of the 1950s in New Zealand as being grey and dour.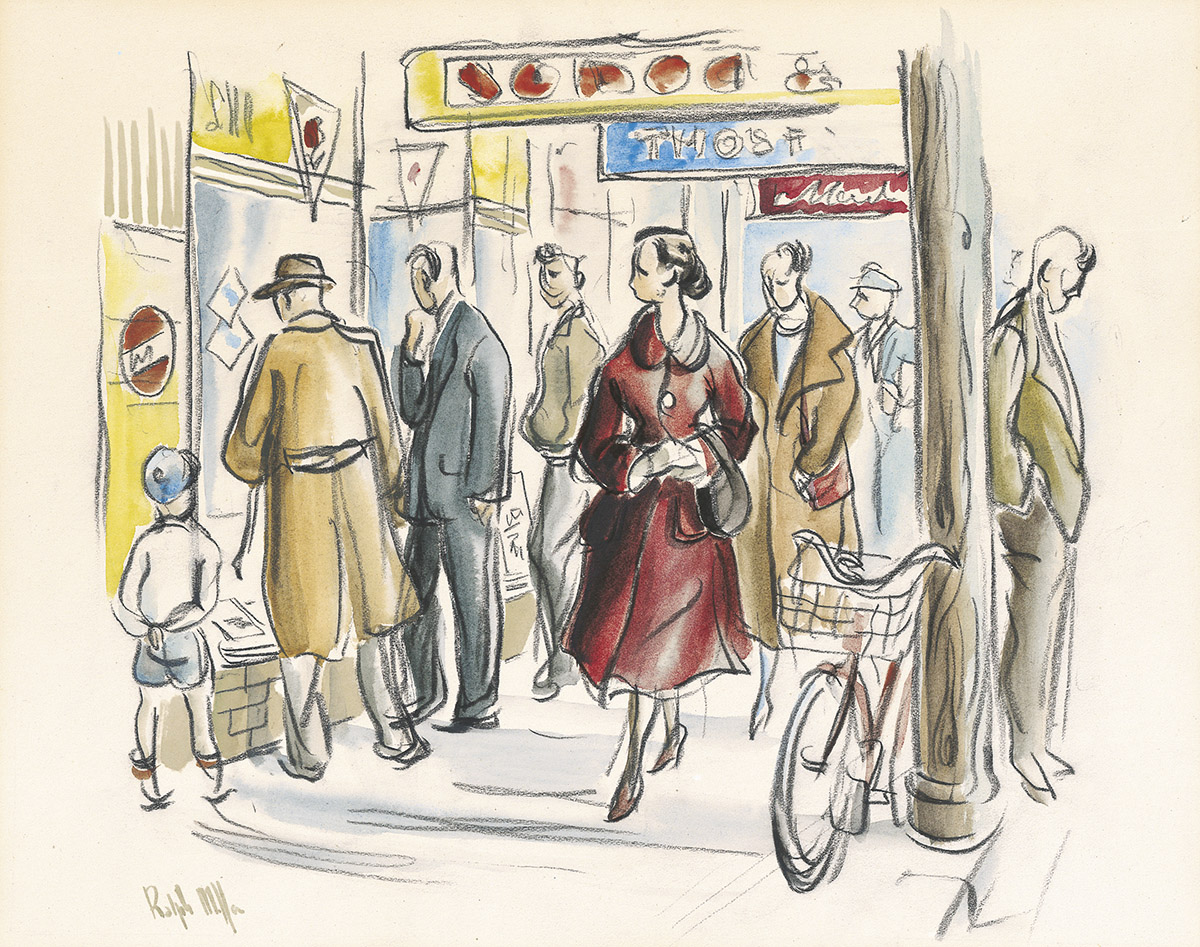 While Ralph's dominant drawing style is typical of many New Zealand artists of his generation, a quite different drawing style appears regularly throughout the book which is almost Rococo in character with its restless curves. I find these less appealing and effective in describing his subjects such as the crowd at a Ranfurly Shield rugby match at Carisbrook Stadium.
It is interesting to note that for his street scenes, Ralph didn't draw exactly what he saw on any a single occasion, but would combine elements of different scenes he had observed and sketched previously. Ultimately with Ralph's best works, you don't just see what life looked like in the early 1950s but you feel what it was like. Ralph was a part and product of his time and place, but he also had the ability to observe it with a certain detachment.
Sadly, Ralph died suddenly at the age of 37, leaving about 1000 sketches, 50 finished paintings, and the feeling he could have achieved so much more. I like the final paragraph Brian Miller ends with. "Hopefully this book will give inspiration for other artists to draw people in groups and in their communities, and to gain as much enjoyment from the act of drawing as Ralph did."