Useful Websites for Genealogy
GENEALOGY SITES
www.genhelp.org
This is a great place to go when you get stuck and need help or advice on Genealogy
www.genealogy.com
A major reference site for Genealogy
www.cyndislist.com
This has a wealth of information and contacts, click on New Zealand and you will get heaps of online sources
NEW ZEALAND..
www.genealogy.org.nz
NZ Society of Genealogists is the main organization in NZ and has extensive records and libraries for members to use.
www.archway.archives.govt.nz
Online index to New Zealand Government archives. Contains descriptions of millions of records.
www.bdmhistoricalrecords.identityservices.govt.nz
This site gives early NZ records for
Births that occurred more than 100 years ago ( before 1915)
Deaths that occurred at least 50 years ago ( before 1965)
( or the deceased date of birth was at least 80 years ago)
Marriages that occurred at least 80 years ago ( before 1935)
www.paperspast.natlib.govt.nz
Search old newspapers in NZ – The ODT used to be called the Otago Witness
www.nzetc.org
New Zealand Electronic Text Centre is a free online archive of NZ & Pacific Islands text and heritage materials. Fully searchable – images – manuscripts and journals. Also contains war records of the NZ Third Division in the Pacific in WW11
www.dunedinlibraries.com
click on Heritage Collections and you get several options
McNab Room Genealogy Links – has a VERY wide range of other useful websites.
Such as Passenger arrivals at Port Chalmers – Commonwealth War Graves –
Dunedin Cemeteries Database click on www.dunedin.govt.nz then click on 'Cemeteries Search'
www.nzmaritimeindex.org.nz/ An index to shipping around New Zealand
WAR RECORDS
www.cwgc.org is a very useful site for tracking the death dates and cemetery location of soldiers who died in WW1 & WW11
– you also pick up the full name of their parents, rank, soldiers ID # and lots of extra material.
NEW ZEALAND HISTORY
Here are some site for general historical background about NZ
www.nzhistory.net.nz The best general site on NZ History
wwwzealand.org.nz/history.htm An interesting site about the origins of New Zealanders – Where we came from
AUSTRALIA
www.australiarecords.net
A large site with a public records search tool accessing a wide range of databases. Payment required
www.online.justice.vic.gov.au/bdm/home
For relatives linked to Victoria Australia this site gives access to key databases on a pay-per-page basis.
About 99c per page.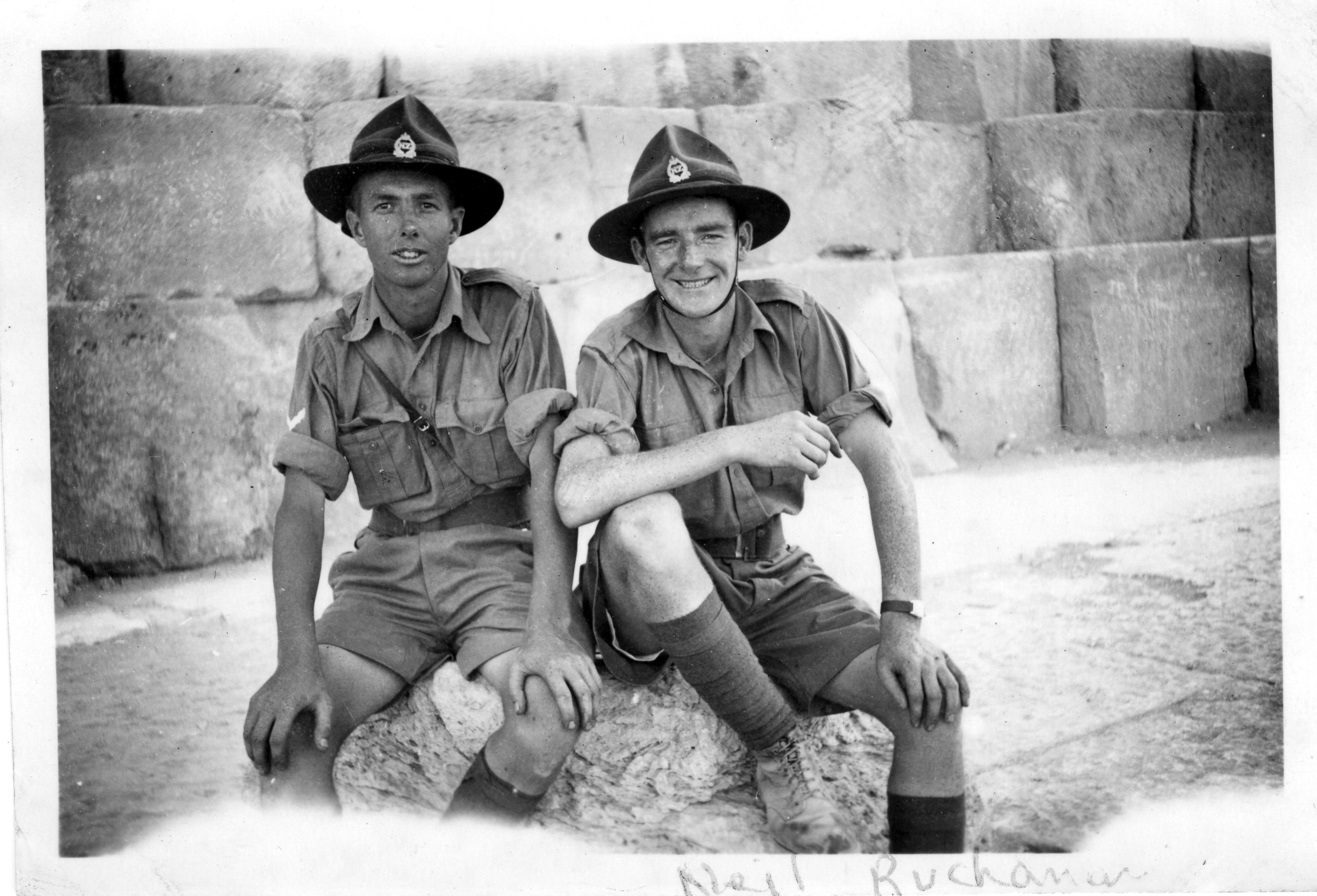 Major Neil Buchanan (right) with Fred Maddox, Italy  WW2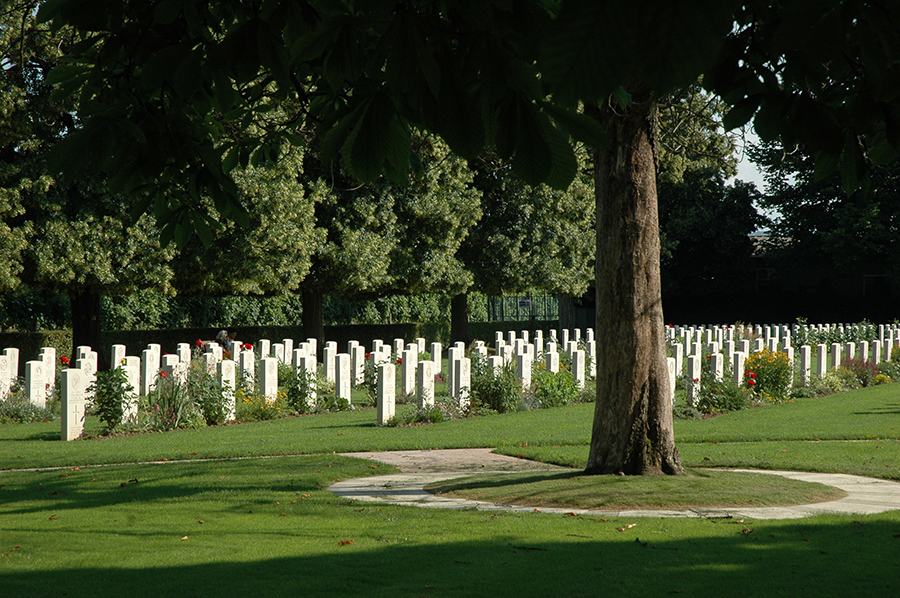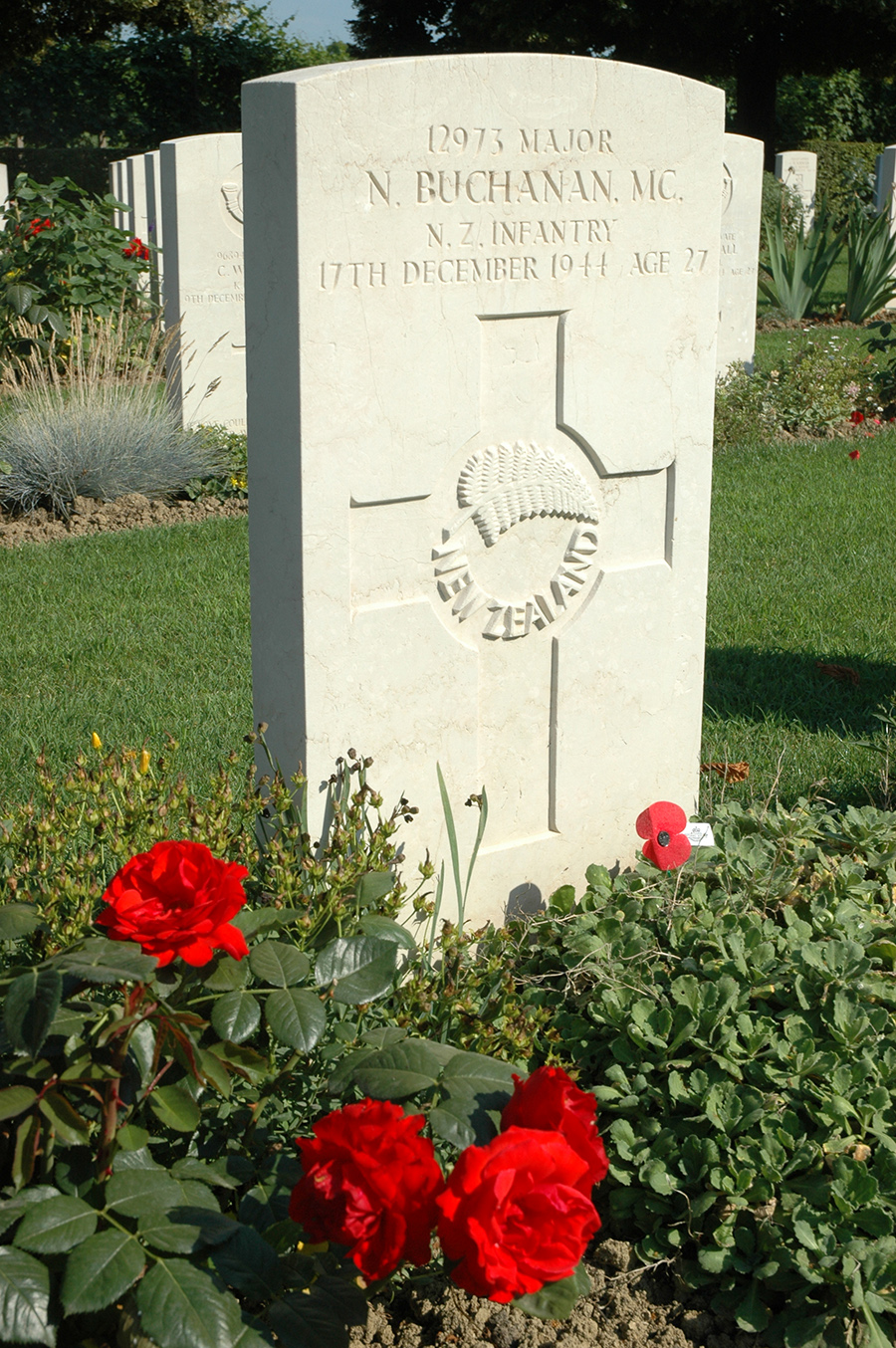 Grave of Major Neil Buchanan, Faenza, Italy.
Neil returned to New Zealand after several years fighting in Europe during World War 2. He had completed his duty – but my mother said he just paced the house wanting to get back to help his men. He returned to the war but was killed shortly after on 17 Dec 1944 – he had just turned 28. He was awarded the Military Cross for his bravery but lost his life in the process.