Digital Cameras the Easy Way
$ 15.00
This little A6 sized, 64 page pocket-book has become a best-seller – selling over 10 000 copies.  Based on the book, the author Brian Miller has run classes in recent years teaching over 600 beginners how to use their digital camera.
The basic facts and the key information that you really need to know about your digital camera are explained in a simple and logical way in this handy little pocketbook. Digital cameras now produce high quality images, but they are complex little machines, with a confusing array of controls and menus. Different models/brands of cameras vary in the way the menus and controls are accessed, but the underlying concepts and practices, as explained in this little guide, remain the same.
Out of stock
Description
You need quite a few skills to master today's highly-computerised digital cameras – as well as to understand their manuals.
This little pocket book (keep it in your camera bag) is filled with solid, practical advice, and even better, it is written by someone who has been a keen photographer for decades (not a camera technician!)
The book is aimed at those people who want to gain confidence in using their camera, and are keen to progress from always using the "automatic" button. Basic workflow procedures for downloading, culling, filing, editing are outlined. There are plenty of handy hints and practical advice for improving photos in different situations – people, landscapes, nature, night shots… And an appendix explaining those digital facts  for re-sizing images,etc. is very useful.
—————–
Digital Cameras the easy way  is a true pocketbook-size reference which explains in simple language all the essentials you need to know to understand your manual, learn to use your digital camera, improve your photos and use the images to print and send to friends,
Initial reaction to the book has been one of relief for most people who have seen it and found it answers all their questions. It is also welcomed by camera store staff who get asked the same questions everyday.
There is no other small digital camera book on the market that is so action-packed, yet easy to follow and access. It is unique and helps solve a world wide problem – 'how to use my digital camera'.
'I'm blown away by (this) tiny NZ Book – packed full of useful hints- explaining the gobbledygook which comes with manuals' –Jan – Bookseller Nelson
——————-
Save
Save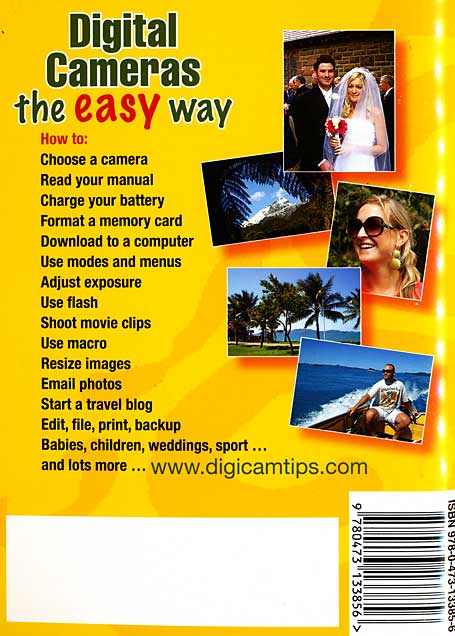 Typical page – Little blue boxes throughout the book allow you to add details from your camera manual into the book, to save having to carry your camera manual with you. – Full of helpful tips to guide you with your digital camera.
Reader Comments:
"I'm blown away by a tiny NZ book – Digital Cameras the easy way – Packed full of useful hints and explains the gobbledygook that comes with manuals – all for $15"  – Jan, Page & Blackmore Booksellers – Nelson
"There's plenty in this book to justify its modest cover price to anyone starting out in digital photography. And if you're putting off buying a digital camera because it all seems too complicated this is the book for you." Jeremy Rose – Scoop Review
"Full of simple, sensible advice and numerous tips – but without wodges of unnecessary information to wade through." Otago Daily Times
"The little handbook – is quite wonderful – has the approach of a master teacher and it feels throughout that [the author] is beside the reader and sharing his journey with him – challenging yet accessible and friendly." Prof. Graham Hill Wanaka
"Helps demystify digital photography – essential tips to improve your photographs. Never overly technical, it's aimed at the average person who just wants better images." NetGuide\
——————
Additional information
| | |
| --- | --- |
| Weight | 0.075 g |
| Dimensions | 10.5 x 0.5 x 15 mm |